Did you know, there's such a thing as a flat pack shipping container?
Yes yes, we know exactly what you're thinking…
Anything with "flat pack" in the name is usually a huge hassle; a poor quality product that takes forever to put together and gives you a major headache in the process.
But what if we said, flat pack containers are the exception that proves the rule. In fact, they actually offer a wide range of benefits. Here we explore some of the main reasons why our unassembled metal boxes could be the ideal option for your storage requirements.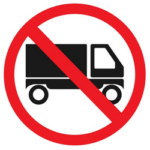 1. Access
Flat pack shipping containers are the ideal alternative when it's impossible for a standard shipping container to be delivered.
Perhaps you only have a small space to work with? Or access is restricted in some way? In such circumstances, a flat pack could be a viable solution. The individual pieces can simply be carried to the desired location – under a low bridge, down a small passageway or even through a building – prior to assembly.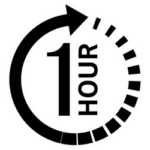 2. Quick and easy assembly
Flat pack products have a bad reputation for being fiddly and frustrating. But even for a DIY novice, we guarantee, our flat pack metal containers are quick and easy to put together.
Each component is fully man-portable – which means, they can be carried by hand, without a crane or heavy-lifting equipment. They're supplied with all the necessary fixtures and fittings. And with the help of our step-by-step guide, they can be fully assembled in less than an hour by just two people. Zero stress required.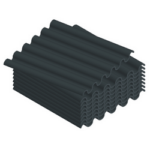 3. Strong and secure
Just because they're lightweight and man-portable, doesn't mean they're low quality. All of our flat pack containers are made from reinforced steel – either galvanised or powder-coated. And offer long-term strength, security, and durability.
They're also wind- and water-tight and demonstrate excellent resistance to rust and corrosion – whatever the weather.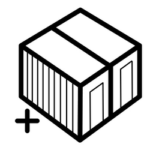 4. Modular
Our flat pack containers come in just three standard sizes: 2x2m, 2x3m and 2x4m. But they're also modular. Each unit can be linked together – either side-by-side or end-to-end – to create a much larger storage space that meets your specific needs.
If you wish, it's possible to create the equivalent of a 20ft or 40ft container – just with the added benefit of it being flat packed!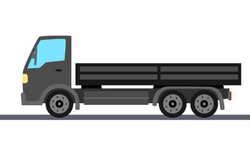 5. Low-cost
Compared to a pre-assembled standard shipping container, flat pack shipping containers are a significantly cheaper option.
What's more, they don't need to be delivered via a Hiab van. Instead, they can simply be transported in bulk via a flatbed truck – which helps to keep delivery costs to an absolute minimum. Due to their compact and lightweight nature, it may also be possible for you to collect your new container from one of our many UK depots – potentially reducing the cost even further.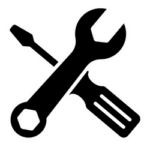 6. Flexibility
Not only are they easy to assemble, our flat pack shipping containers are also easy to disassemble too.
Perhaps you've changed your mind about its position? Or currently don't need as much storage space? Simply take it apart and move it wherever you wish. The individual components can be neatly stacked whilst not in use and dismantled and reassembled as many times as you like.

Got a question about our flat pack shipping containers?
They're a fantastic option for many different uses – and one that, here at Gap Containers, we often recommend to our clients. But if you're still unsure whether a flat pack container is right for your needs, or would just like to find out more about their benefits, please don't hesitate to get in touch.
We're always on hand to help and will happily answer any questions you may have and generate a quick quote for your ideal flat-packed storage unit. Simply give us a call on 0870 240 9405 or send an email to sales@gapcontainers.co.uk and a member of the team will respond as soon as possible.