Thinking about starting up a street food business?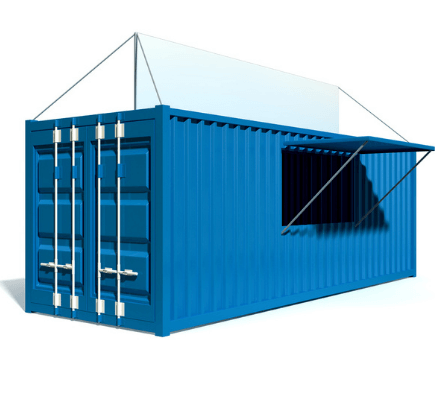 It's a great idea.
No longer just a 'quick and dirty' option found at the side of a motorway. Street food stalls are now regarded as a causal yet gourmet dining experience. Somewhere to get tasty authentic food – from all corners of the world – for a reasonable price. And their popularity in the UK is booming.
The question is, should you invest in a food van or a converted shipping container?
Container kitchens have become increasingly common over the last few years – and it's easy to understand why. Yes, as leading specialists in shipping container conversions, we may be slightly biased. But, here at Gap Containers, we wholeheartedly believe that a container food stall is a superior alternative to a traditional van. And here we take a look at some of the main reasons why.
5 reasons to use a shipping container for your street food stall
1. Excellent value for money
For any start-up business, sticking to the budget is crucial – and, nine times out of ten, a shipping container conversion will be significantly cheaper than purchasing (and adapting) a food van.
You'll also get a lot more space for your money. And unlike a vehicle, which will require regular maintenance, a catering container will need very little upkeep. The container itself is made from weatherproof steel and can last for up to 25 years, without showing any signs of wear and tear.
2. Versatility
As they are much larger than the average food van, catering containers give you much greater freedom in terms of equipment and facilities. In fact, a 20ft shipping container has enough space for a full commercial kitchen. Install a small indoor grill, a pizza oven, a commercial fryer, a chest freezer, or a six-burner cooking range. It's up to you. Whatever you need, it's guaranteed to fit.
What's more, the design possibilities are endless. The container can be adapted to include a choice of windows, doors and awnings and personalised with your brand colours and logo.

3. Wheels are unnecessary
One of the main advantages of a food van is unlimited mobility. You can drive it all over the country if you wish. But in reality, will you actually do that? The street food business is all about location. And the chances are, once you've found the ideal spot, you'll just drive back to that spot every day.
So, is there any need for a food stall with wheels?
A shipping container can be set up in a prime, semi-permanent location (such as a park, city centre, beach etc.), giving your business a bricks-and-mortar feel – without any of the overheads. And if you do wish to relocate, it can still be easily picked up and moved at a later date. It's a win-win situation.
4. Security
Constructed from Corten Steel, shipping containers are inherently strong and secure. But for extra peace of mind, they can also be fitted with container padlocks and lockboxes – to help protect the contents and reduce the risk of break-ins. That means, at the end of the working day, there's no need to pack everything away and move your stall to somewhere secure (e.g. a lockable garage). You can simply shut the door, lock the padlock and leave your container food stall safely on location.
5. Unique
Aside from delicious food, the key to a successful street food business is to catch the eye of passers-by – and that's certainly something a shipping container can help with. A container food stall will make your stall stand out from the crowd. It's something unusual. And the more creative you are with the design, the more it will grab the attention of potential customers and boost your sales.
Shipping container conversions at Gap Containers

Like all areas of hospitality, the pandemic has had a big impact on the street food industry. But as restrictions continue to ease, and the UK slowly returns to normality, things are starting to pick up once more. And if you'd like to set up a new street food stall in your local area, a shipping container conversion is a smart way to get started – cheaply and successfully.
And the good news? We can help.
Here at Gap Containers, we're a UK leading specialist in shipping container conversions. Over the last few years, we've worked with many street food entrepreneurs – helping to create the ideal shipping container kitchens and container food stalls for their business. And we can do the same for you.
So why not get in touch?
To discuss the benefits of a container conversion in more detail, simply give us a call on 0870 240 9405. Or you can send an email to sales@gapcontainers.co.uk and we'll respond to your enquiry as soon as possible. We're always excited by the prospect of a new challenging container conversion. And we'd love to hear your shipping container street food ideas and help bring them to life.