Is your container looking a little worn? Or perhaps you want to repurpose it? Either way, container painting could be the solution.
This is a quick, cost-effective service offered by Gap Containers and one that can make a huge difference to your container's aesthetic. Here we take a look at when shipping container painting is recommended and explore the range of options currently available at our depot.
Container painting – it's all about appearance
Container painting is never required for practical reasons. It's simply a way to change the colour of your container and improve upon its cosmetic appearance – giving it a fresh new look.
As shipping containers are made from corten steel, and specially treated to prevent corrosion, any rust that forms on their surface is superficial. This rust will not harm the container in any way or compromise its strength or durability. But it can be very unsightly. Therefore, if the appearance of your shipping container is important to you, it's a good idea to have it repainted.
Some people also choose to repaint used shipping containers to hide scratches and paint flakes. And whilst new containers tend to be in excellent condition, they usually come in blue and green as standard. So, if you have a particular colour in mind – perhaps as the basis for your container conversion project – again, you may wish to ask your supplier for a repaint.
Do I need to hire a professional for container painting?
Professional container painting isn't essential. If you have spare time and are trying to keep costs to a minimum, it's perfectly possible to carry out the paint job yourself. But like with most things, to ensure the best results, it's often worth recruiting the help of an expert – such as Gap Containers.
Having worked in this area for many years, we understand exactly how to prepare the shipping container for painting – first removing any dirt or residue with a commercial-grade cleaner, before sanding it down to create a smooth surface. We only ever use marine-grade self-priming paint and have mastered the ideal painting techniques to ensure full and long-lasting coverage. Regardless of its condition at the start, our service will leave your container looking as good as new.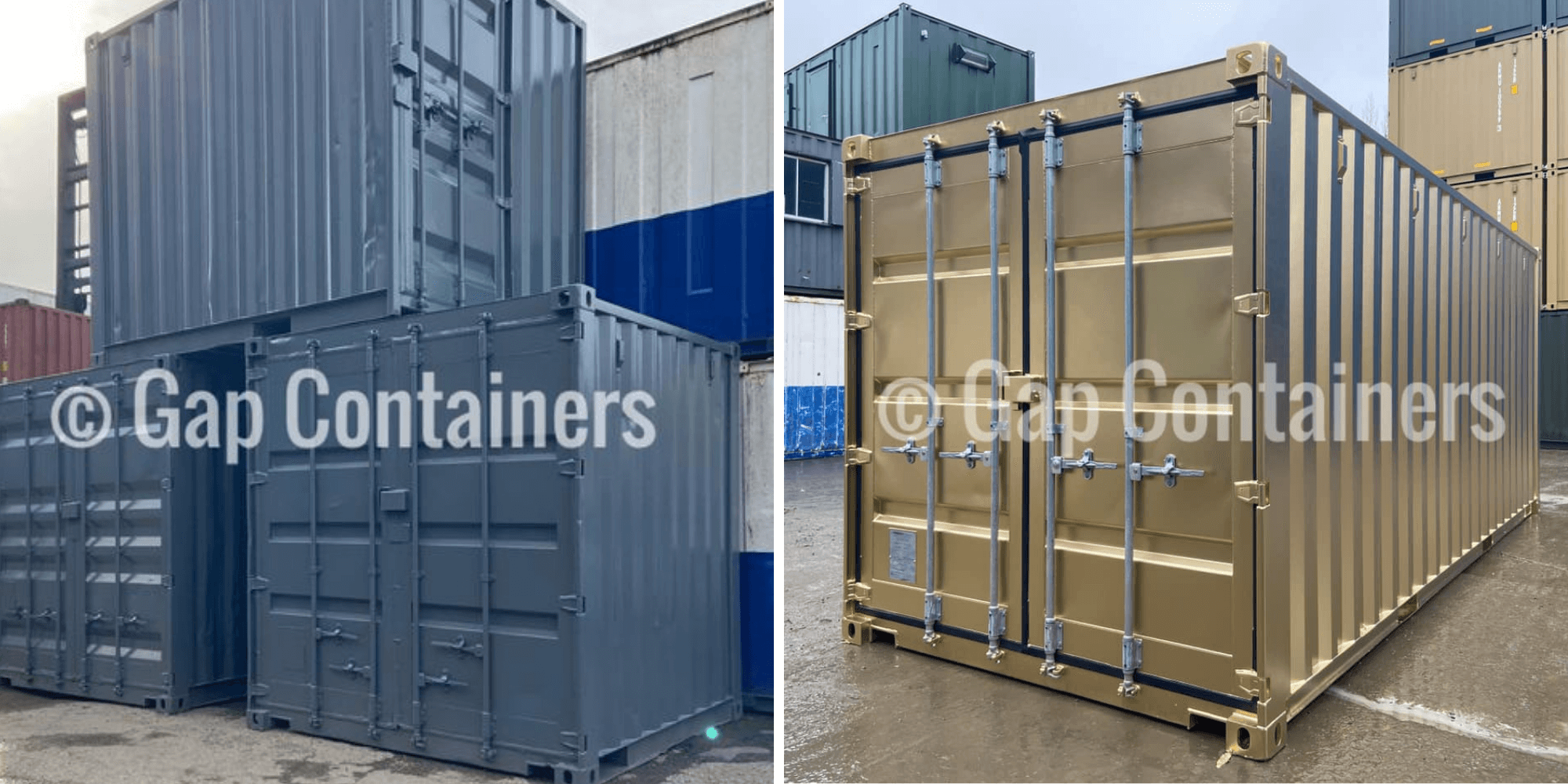 Container painting options at Gap Containers
If you believe container painting is right for you, we currently offer three options:
1. Standard repaint – just as the name suggests, this involves repainting the entire shipping container (including the rubber seals and locking gear) in one solid colour.
2. Factory finish – with this option, all rubber seals and locking gear are masked before painting. As such, they remain in their original colour and the 'factory finish' is maintained.
3. Repainting with re-decal – this is the ideal option if you wish to use the container for shipping. All container numbers will need to be visible. Therefore, decals are removed before painting and carefully reapplied afterwards. Rubber door seals and locking gear will also be masked.
Containers can be painted in any colour on the RAL colour chart. Which means, there are over 200 shades to choose from. The ideal shade for you will, ultimately, depend on how you wish to use the container and your personal preferences. But again, this is our area of expertise. If you're unsure of the best colour for your application, we're always happy to help and can offer tailored guidance.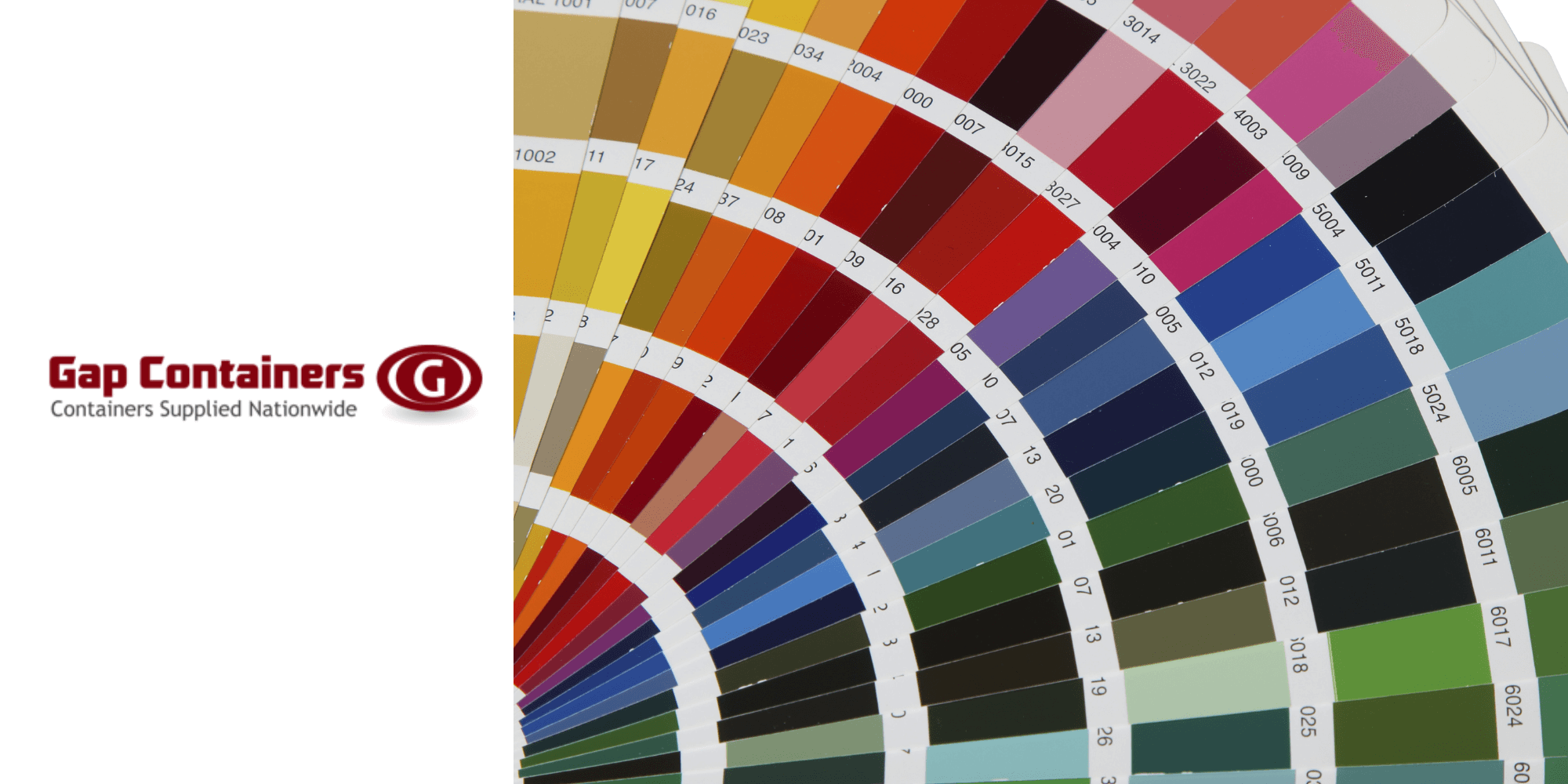 Get in touch today
To find out more about shipping container painting – and the service provided here, at Gap Containers – please feel free to get in touch. You can either give us a call on 0870 240 9405 to speak to a member of the team and discuss your container painting requirements in detail. Or send an email to sales@gapcontainers.co.uk and we'll respond to your enquiry as soon as possible.